Lively Habits's 5 Pillar and 10 Lifestyle Habits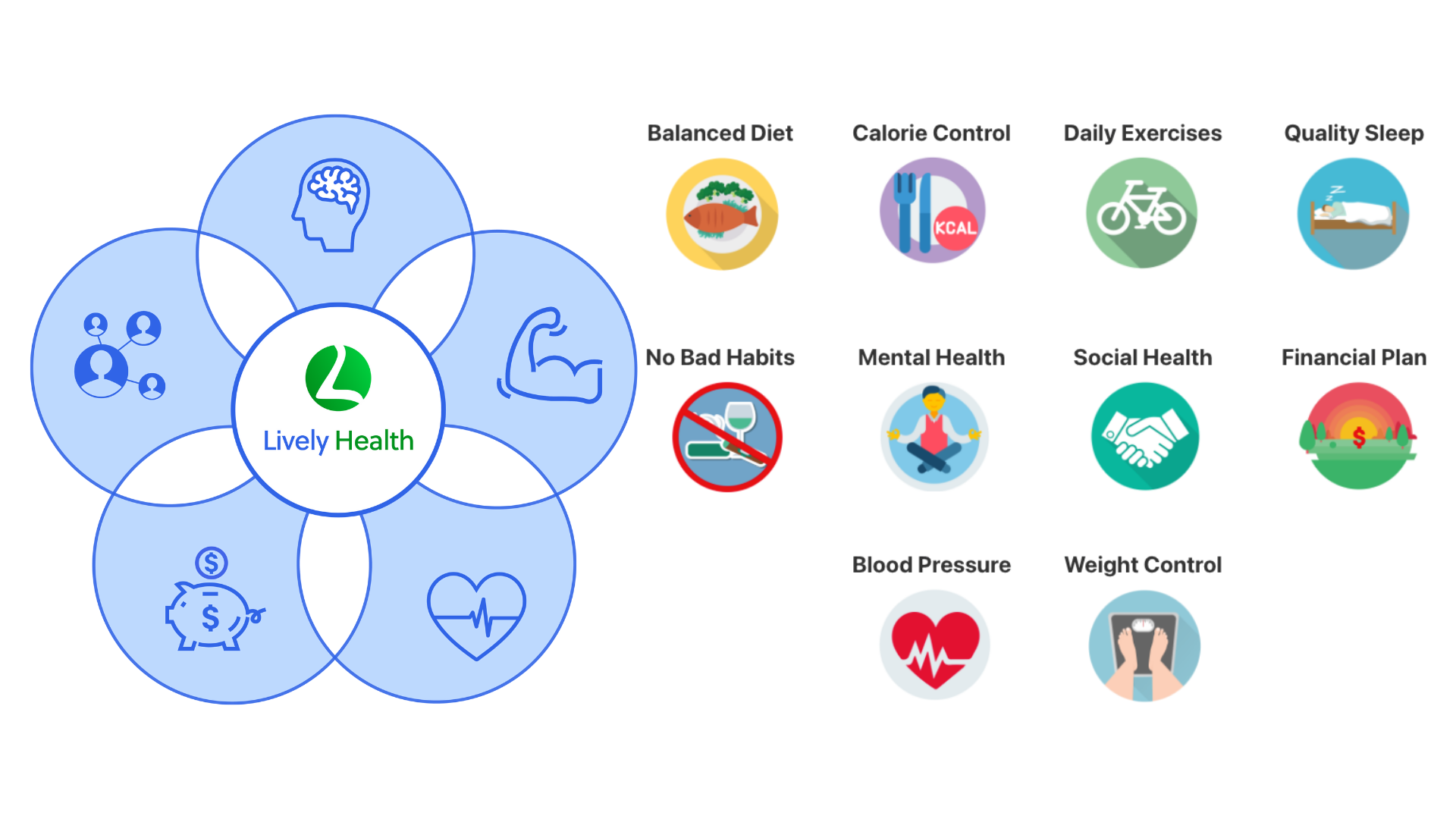 What are the 5 Pillars of Whole Health?
The Lively Habits app helps you build and maintain five pillars of holistic health, covering physical, mental, social, financial, and medical areas of health.
Holistic health is an ongoing process; therefore, paying attention to these five pillars of health can prepare you to live a healthier and more proactive life free of chronic diseases.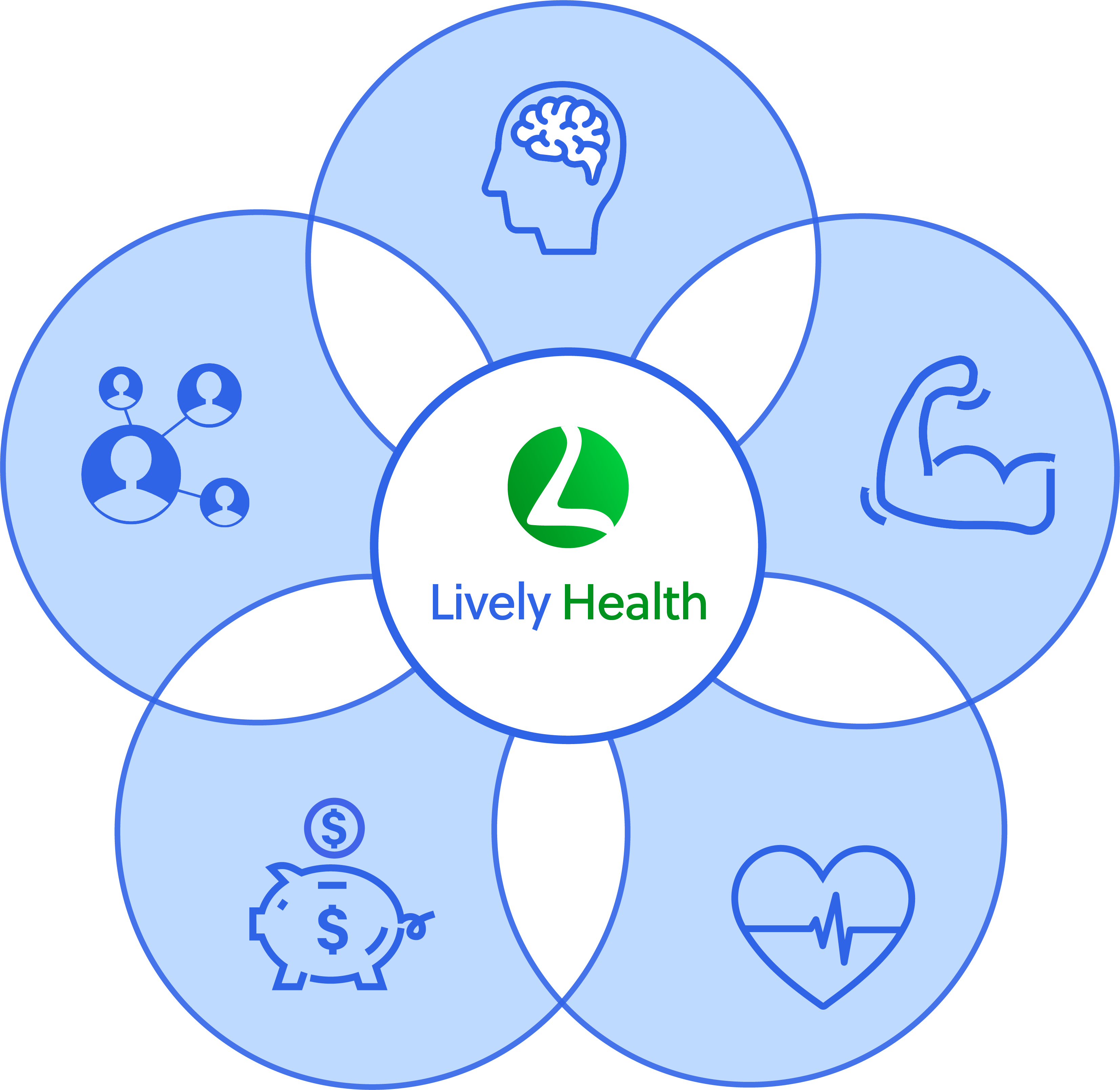 So how exactly do each 5 pillars help you? Let's break them down!
The first one is physical. Physical wellness is an important but often overlooked aspect of people's overall health. In addition to avoiding bad habits, developing habits like eating balanced diets, daily exercise, and having quality sleep are all keys to keeping one's body working properly.
The second one is mental health. Mental health is crucial in every stage of life and helps determine how people handle stress and make healthy choices. You can start taking care of your mental health by being thankful and finding ways to relieve stress.
The third one is social health. Humans are social animals. Strong relationships are linked to better health, increased happiness, and living a longer life. You can start by strengthening your existing relationships and making some new friends, too.
The fourth one is financial health. A well-thought-out financial plan allows you to be in control of your money, including income, expenses, and investments, to achieve your life goals.
The last one is medical. Medical health includes blood pressure and weight control. Keep track of your blood pressure to help you and your doctor make decisions on your health, potentially preventing hypertension, high blood pressure. Tracking your weight helps you measure your BMI to prevent or reverse obesity.
These 5 Pillars are Lively Habit's approach to Whole Health and helping people to live a healthier lifestyle. Following the 5 pillars closely can help you take control of your life.
Like Abraham Lincoln once said, "in the end, it's not the years in your life that count; it's the life in your years."
What are the 10 lifestyle habits?
We talked about the 5 Pillars of Health in the last video, and in today's video, we will be talking about the 10 proven healthy lifestyle habits covering five holistic health pillars.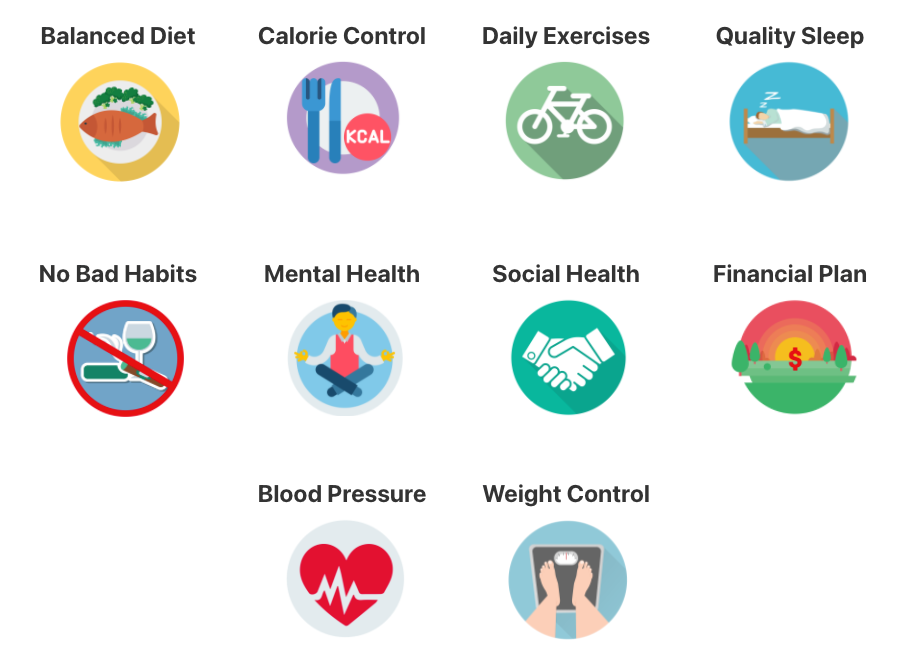 These lifestyle habits can help you to improve your quality of life, prevent diseases, and help you live a healthier and longer life.
The first one is a balanced diet that gives your body the nutrients it needs. It usually consists of vegetables, fruits, whole grains, low-fat dairy products, poultry, fish, and eggs. This doesn't mean you can't have cheat meals, but rather eat in moderation.
The second one is Portion and Calorie control which means knowing when you are full and being mindful not to overeat.
The third one is Daily exercises. It can range from low-intensity walking to high-intensity workouts. Exercise delivers oxygen and nutrients to your tissues and helps n your cardiovascular system work more efficiently.
The fourth one is Quality sleep. There are signs of sleep deprivation include trouble concentrating, memory issues, high blood pressure, and weight gain. The CDC recommends that adults get 7-9 hours of sleep each day.
The fifth one is Bad habits which include smoking, substance abuse, and alcohol abuse. These habits can lead to the development of chronic diseases over time, so avoid them!
The sixth one is Mental health. It is normal to experience stress in your life. Understanding the cause of stress, practicing relaxation techniques and positive thinking can help you manage your stress levels.
The seventh one is Social health. A social support network is made up of family, friends, and peers. Supportive relationships to talk about different aspects of life.
The eighth one is a long-term financial plan. It is a personal examination and planning of your finances. Look at your income and expenses, and plan for savings and investments.
The ninth one is Blood pressure. It's important to get an accurate blood pressure reading so that you have a clearer picture of your risk for heart disease and stroke.
The last one is Weight control. It is good to be aware of your body weight and actively maintain it at healthy levels.
10 Lifestyle habits help you stay on track of a healthy lifestyle to maintain Whole Health. Long-term adherence to 10 healthy habits can people achieve preventive health and longevity.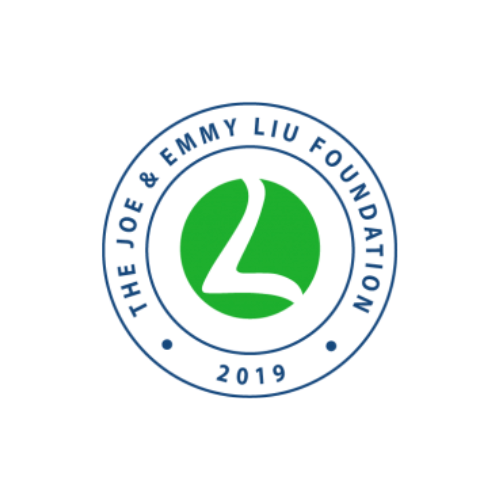 Living It Up Anywhere
The idea of living your best life can be done anywhere, at any time, and all it really takes is a mindset shift. Take it one core lifestyle habit at a time, whether that is eating healthy and less, daily exercise, quitting bad habits, getting a routine checkup, or being positive. Take a chance today to Live It Up!